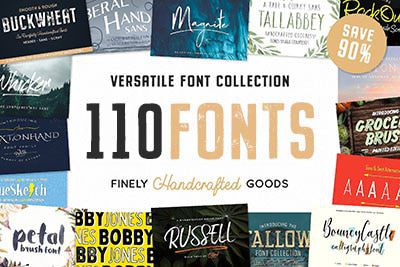 The Ultimate Handcrafted Fonts Collection
Proudly introducing this super versatile selection of 110 premium handcrafted fonts with hundreds of design extras. Five years in the making, this collection contains the absolute best of what I have to offer!
Extended Commercial Use
Use this collection of fonts and design goods within an unlimited number of commercial projects. This includes end products for sale, print and web work, social media, etc. Read the Extended Commercial License for more details (Oh, this also covers the bonus textures too!)
Compatible & Multilingual
The fonts are in the OpenType font format. OpenType fonts are accepted within the vast majority of design software (this includes design apps for mobile and tablets!). Multilingual support is also included for Basic Latin, Western European, Euro & Pan African Latin.
Not happy? No worries!
Abbie (my fianceé and co-creator) and I are not happy unless you are; That said, we're so confident in our products that we offer a money back guarantee within 30 days of your purchase. So if you're not 100% satisfied, please do not hesitate to reach out and we will fix that!
Keep Scrolling to see What's Inside!
Below you will find a detailed overview of each and every font family that has been included within this diverse and exciting collection of handcrafted fonts. Also, don't miss out on snatching the 'Assorted Paint Texture Collection' as a bonus for purchasing today. It contains over 250 high-resolution textures! Oh, If you have any questions please refer to my FAQs page or shoot me a message.
The Buckwheat Font Collection
Each and every font within the brand new Buckwheat Collection was carefully created to be timeless, super versatile, and effortlessly cohesive. An essential kit to come back to time and time again for any number of design projects; from clean and modern, to rough and organic (More info)
Purchase Today & Receive this FREE Bonus Gift! (Worth $59)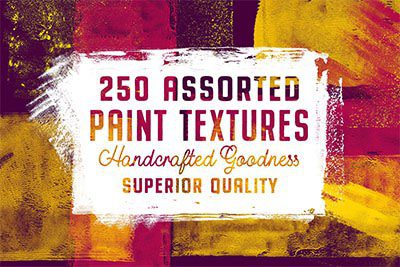 The Assorted Paint Texture Collection
Add super high-quality and realistic paint texture effects to your digital work within seconds by putting the extensive 'Assorted Paint Texture' pack to work! By covering a wide variety of styles; from clean to grunge and from light to heavy, these textures are the perfect addition to any professional designers toolkit.