Jovial – A fun and playful font family
From $26.00
Introducing the handcrafted Jovial Font Family (6 fonts!). Jovial was designed to be friendly, fun, quirky and eye-catching. Jovial is available in both Serif and Sans-Serif, each coming with three weights: Light, Regular, and Bold.
Bonus Design Elements – I have handcrafted a bunch of complementing vector design elements that you can use in your projects in combination with this lovely font family.
Stylistic Alternatives make Jovial truly special. Do you want your letters to have a lower or a higher handle? How about an oblique handle? No problem. Jovial offers you up to four stylistics alternatives for the letters that we use the most.
229 Glyphs glyphs are ready to use, covering all the major Western European Latin languages (English, French, German, Italian, Spanish, Dutch, Danish, Faroese, Finnish, Gaelic, Icelandic, Indonesian, Irish, Javanese(Latin), Malay(Latin), Norwegian, Portuguese, Sami(Southern), Swahili, Swedish, and Walloon) and some junior ones such as Afrikaans,Basque, Breton or Catalan.
Description
Preview Text and Change Font With Dropdown Menu
Preview Text and Change Font With Dropdown Menu
Licensing
All of our products come with a full range of licensing options to suit the needs of any individual or organization. We like to keep things nice 'n' easy and in line with industry standards. Our licenses are structured as a one-time purchase, with no need for yearly renewals. More info here.
Compatible & Multilingual
The fonts are in the OpenType font format. OpenType fonts are accepted within the vast majority of design software (this includes design apps for mobile and tablets!). Multilingual support is also included for Basic Latin, Western European, Euro & Pan African Latin.
Our Happiness Guarantee
We firmly stand by the quality of our products, which is why we provide a money-back guarantee within 30 days of your purchase if you're not completely satisfied, please do not hesitate to reach out and let us fix any issues you may have with our products.
Instantly Unlock 1000's of Premium Design Assets with our All Access Pass
Sign up today for instant access to a creative, versatile, and professional library of design assets that immediately add an authentic touch to your digital work. Best of all, every future release will be ready and waiting for you at no extra price. Save time, energy, and money by putting our range of handcrafted fonts, realistic textures, and vintage illustrations to work.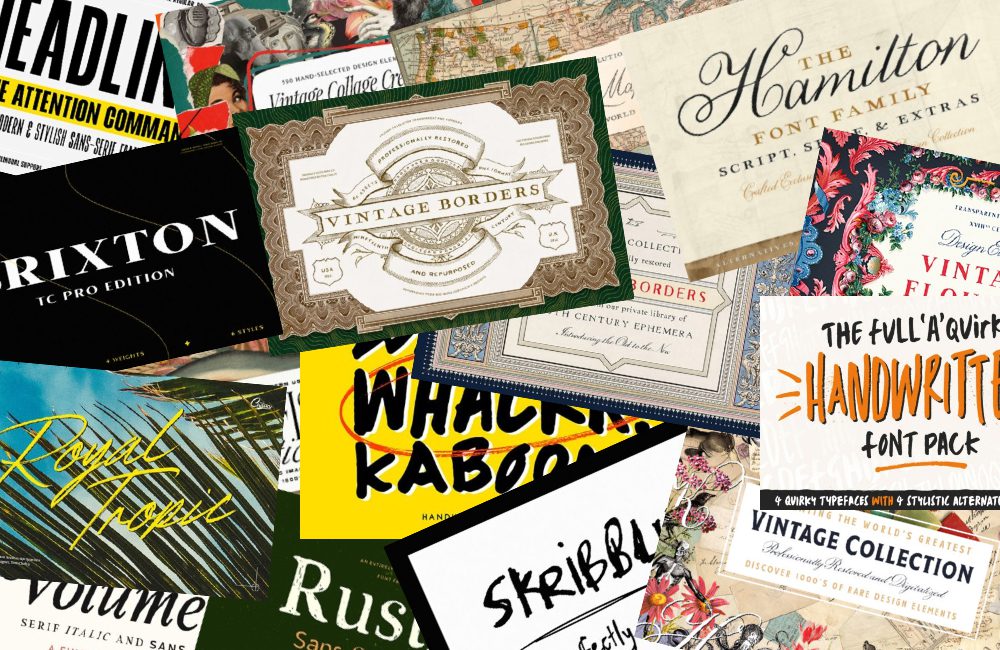 Other products you might like
Additional information
| | |
| --- | --- |
| License | Desktop License (1 User), Webfont License (10,000 Pageviews/Month), E-Pub License (1 Title), App License (1 App), Server License (1 CPU) |