Bobby Jones – 16 Quirky Handwritten Fonts
$46.00
Introducing The Loud & Proud Bobby Jones Font Collection
---
Inside you'll find 16 quirky handcrafted fonts, oozing with personality, ripe and ready to take center stage within a variety of creative and fun design projects. If you're looking to grab eyeballs with an ad campaign, a logo design, apparel, printed stationery, and all that other good stuff, then worry not. Bobby has you covered. We all come with imperfections and Bobby is no exception! His outlines are slightly off, his corners are irregular, his straights aren't straight, but he's cool with it. In fact, he's too busy strutting his stuff.
---
What's Inside?
---
Each of the fonts listed below boasts multilingual glyph ranges and their own individually handcrafted outline style! (16 fonts in total!)
Bobby Jones – The original Bobby.J
Bobby Jones Soft – A rounded version of the above
Bobby Jones Condensed – The thinner and leaner sibling to Bobby
Bobby Jones Condensed Soft – A rounded version of the above
Bobby Rough – A high-res textured version of the original
Bobby Rough Soft – A textured version of Bobby Jones Soft
Bobby Rough Condensed – A textured version of Condensed.
Bobby Rough Condensed Soft – A textured version of Cn Soft.
Designed a little over five years ago, the original Bobby Jones Font was my first ever product. This new and improved version has been entirely redesigned from bottom to top. Holding dearly to the punch that the original had, while adding a whole lot of extra power.
Description
Preview Text and Change Font With Dropdown Menu
Preview Text and Change Font With Dropdown Menu
Preview Text and Change Font With Dropdown Menu
Preview Text and Change Font With Dropdown Menu
Licensing
All of our products come with a full range of licensing options to suit the needs of any individual or organization. We like to keep things nice 'n' easy and in line with industry standards. Our licenses are structured as a one-time purchase, with no need for yearly renewals. More info here.
Compatible & Multilingual
The fonts are in the OpenType font format. OpenType fonts are accepted within the vast majority of design software (this includes design apps for mobile and tablets!). Multilingual support is also included for Basic Latin, Western European, Euro & Pan African Latin.
Our Happiness Guarantee
We firmly stand by the quality of our products, which is why we provide a money-back guarantee within 30 days of your purchase if you're not completely satisfied, please do not hesitate to reach out and let us fix any issues you may have with our products.
Instantly Unlock 1000's of Premium Design Assets with our All Access Pass
Sign up today for instant access to a creative, versatile, and professional library of design assets that immediately add an authentic touch to your digital work. Best of all, every future release will be ready and waiting for you at no extra price. Save time, energy, and money by putting our range of handcrafted fonts, realistic textures, and vintage illustrations to work.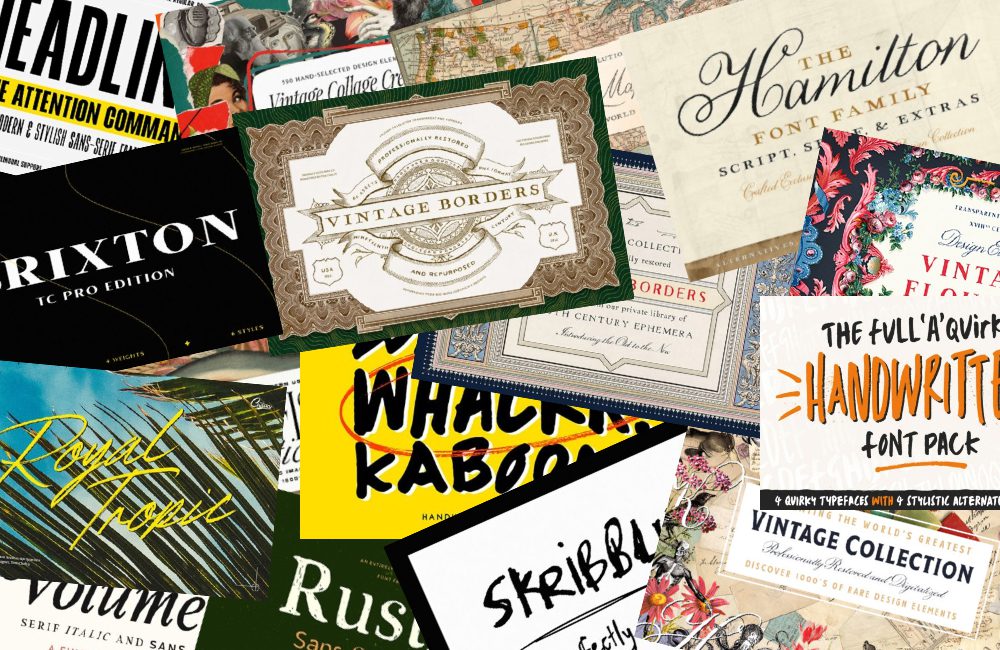 Other products you might like
Additional information