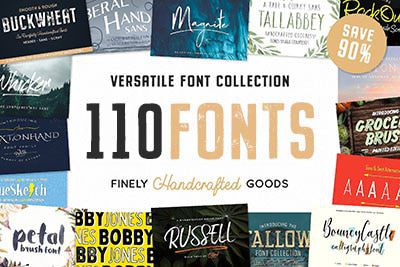 The Ultimate Handcrafted Fonts Collection
Proudly introducing this super versatile selection of 110 premium handcrafted fonts with hundreds of design extras. Five years in the making, this collection contains the absolute best of what I have to offer!
A Font for Every Project
From brush scripts to quirky sans-serifs, from modern calligraphy to vintage mono-line, and everything in between. This premium collection is guaranteed to provide value over and over.
Over 1 Million Creators
Discover why these fonts are being used by brands, design agencies, and over 1 million independent creators worldwide for a fraction of their original price.
Extended Commercial Use
Use these fonts within an unlimited number of commercial projects. Read the Extended Commercial License for more details. Web font use is also included with your purchase!
Keep Scrolling to see What's Inside!
The Buckwheat Font Collection
Each and every font within the brand new Buckwheat Collection was carefully created to be timeless, super versatile, and effortlessly cohesive. An essential kit to come back to time and time again for any number of design projects; from clean and modern, to rough and organic (More info)