This Font is Included in the 'I Want It All' Font Pack! – The 'IWIA' font bundle includes 75 lovingly handcrafted fonts and hundreds of complementary design extras with a huge discount of 84%! You can purchase this font and the majority of my versatile collection for just $49 today. What you waiting for?!
Brixton Collection (16 Fonts + Extras!)
Introducing the whole Brixton Collection – A System of 16 Lovingly Handcrafted Fonts
This stunning collection of fonts has been something that I have been tinkering with since I started font design. The original Brixton font was one of my first ever designs and since its launch, I have added and edited the family to what it is here before you. I still don't think I am entirely done, I still want to add more! (and if I do, your purchase will give you free access to the updates)
What's inside?
The Original Brixton Family (6 fonts) – A handcrafted font family with a unique and timeless personality that is available in 3 weights; light, regular and bold (and outline for all three!). Also included are 12 vector decorative frames that complement the elegance of Brixton, alongside 100+ handcrafted swirls and curls.
The Brixton Sans Family (6 fonts) – The sans companion for the original Brixton family (above) that also includes 3 weights; light, regular and bold and an outline version of each. Included with this download are 16 decorative shields and badges.
The Brixton Hand Family (2 fonts + 2 symbol fonts) – Brixton Hand and its sans-serif companion were consciously designed to function beautifully together within a variety of different design projects. From logo to apparel and from posters to the web. By correctly utilizing the available stylistic alternatives, the included extras, and catchwords, the pair truly shines!
The Brixton Line Family (2 fonts) – Brixton Line is a simple and effective handcrafted serif font but within a few clicks, you can transform Brixton Line into something unique and creative. With over 80 stylistic alternatives to choose from this font is great fun to work with!
100's of Design Extras – Included with Brixton and Brixton Sans (read above for details)
Multilingual – Each font in the Brixton collection is Multilingual and covers all Latin 1 languages
Stylistic Alternatives – Brixton, Brixton Line, and Brixton Hand all include Stylistic Alternatives
Free Future Updates! – I still plan on adding to the collection. With your purchase today, you are also purchasing any future addition to the collection.
Additional Information
| | |
| --- | --- |
| Brixton Collection | Brixton, Brixton Sans, Brixton Hand, Brixton Line, Whole Collection |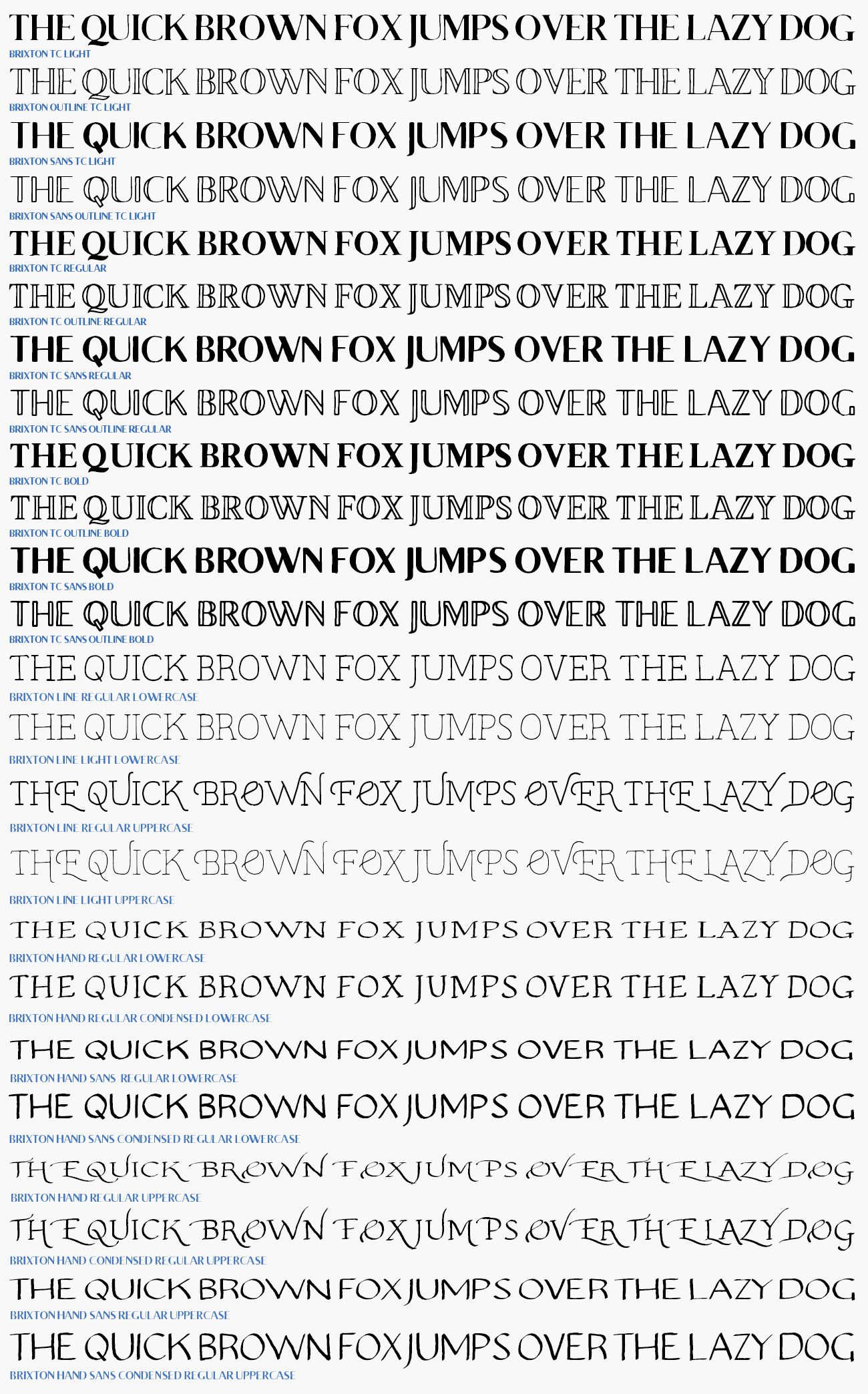 Payments are 100% secure and processed through PayPal, you do not need a PayPal account to use the service. If you require the fonts for a use that fall outside of my end user license agreement 'EULA', please do not hesitate to get in touch.
All updates to your purchased fonts (excluding added weights/styles) are entirely free. If you are not 100% satisfied with your new font, I'll refund your payment as soon as possible. Any questions? I'm always here to help.