Rustic Gold Brush Script SVG Font
$21.00
Introducing Rustic Gold! An expressive Opentype SVG brush script font full of personality and stunning textures. Designed to be versatile, Rustic Gold, can take center stage or be used to beautifully complement your favorite sans and serif fonts. Ideal for a variety of design projects from branding to packaging, from apparel to stationery, and everything in between. Please note: The SVG Font format requires Adobe Illustrator CC (2018) or Photoshop CC (2018) to use. If you do not have access to Adobe CC Worry not. The OTF vector format has also been included and is widely supported! What's Inside?
Rustic Gold SVG Font: If you're looking to create handwritten type designs that ooze authenticity and character, Rustic Gold in the SVG format should do the trick! It features high-quality, dry brush pen textures throughout with zero extra work required.
Rustic Gold Alt SVG Font: An entirely alternate glyph range (uppercase and lowercase) designed to complement the original font design and to improve the overall handwritten appearance.
Rustic Gold OTF Font: The vector alternative to its SVG sibling. The texture of SVG fonts are great, but not always suitable for the project and unfortunately not widely supported (yet!). So this is the next best thing!
Rustic Gold Alt OTF Font: Same as the above, just with an alternate glyph range.
15 High-Resolution Gold Textures: While experimenting with this font, I paired some gold textures I had laying around and the end result is what inspired the name; Rustic Gold. I couldn't launch this wonderful family without a bunch of gold textures for you to play around with!
High Res PSD File: If you are unable to use the SVG format, or require the letters in a higher resolution, then this PSD file is for you. It includes all of the letters, numerals, and punctuation marks in an organised PSD document.
Extra Information Rustic Gold is multilingual, however, the SVG fonts only include the necessary punctuation. Manual typesetting will be required to create multilingual letters. On the flipside, the OTF fonts include full multilingual support. SVG fonts can be pretty heavy on software, so by reducing the number of glyphs; we improve the overall performance!
Description
Licensing
All of our products come with a full range of licensing options to suit the needs of any individual or organization. We like to keep things nice 'n' easy and in line with industry standards. Our licenses are structured as a one-time purchase, with no need for yearly renewals. More info here.
Compatible & Multilingual
The fonts are in the OpenType font format. OpenType fonts are accepted within the vast majority of design software (this includes design apps for mobile and tablets!). Multilingual support is also included for Basic Latin, Western European, Euro & Pan African Latin.
Our Happiness Guarantee
We firmly stand by the quality of our products, which is why we provide a money-back guarantee within 30 days of your purchase if you're not completely satisfied, please do not hesitate to reach out and let us fix any issues you may have with our products.
Instantly Unlock 1000's of Premium Design Assets with our All Access Pass
Sign up today for instant access to a creative, versatile, and professional library of design assets that immediately add an authentic touch to your digital work. Best of all, every future release will be ready and waiting for you at no extra price. Save time, energy, and money by putting our range of handcrafted fonts, realistic textures, and vintage illustrations to work.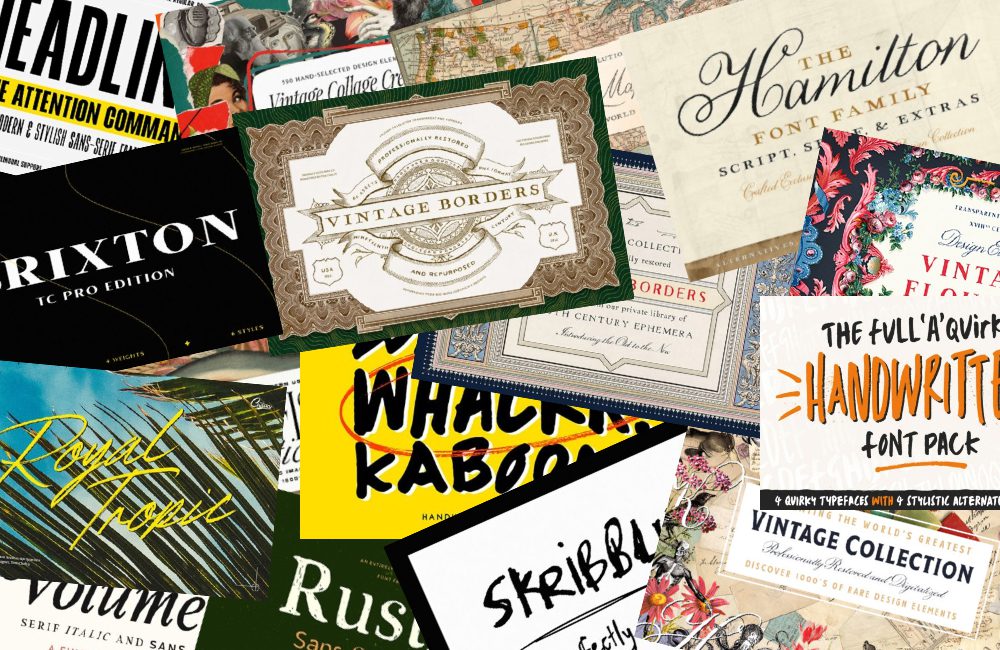 Other products you might like
Additional information