Hamilton – The Vintage SVG Font Collection
$29.00
The Hamilton SVG Font Family features a serif, sans serif, and script; each boasting exquisite and hand painted textures throughout. Inspired by vintage maps, wine, and whisky labels, Hamilton was designed to be a classy cat perfect for packaging design, logos, invitations and so much more. Opentype SVG Fonts require Photoshop CC 2017 or Illustrator CC 2018 (or newer). TTF fonts are included and these work universally What's Inside?
Hamilton Serif SVG – A strong serif that looks great large or small featuring all capitals with alternate uppercase and lowercase glyphs to improve the overall handwritten aesthetic.
Hamilton Script SVG – Your classic script font that oozes sophistication and quality. Looks great on its own and perfectly compliments the serif.
Hamilton Sans SVG – A wonderful sans font, specifically designed to look great small. It doesn't want the spotlight, it sits comfortably alongside its counterparts. Another all-caps font with alternate lowercase and uppercase glyphs.
Hamilton Painted Series – These 3 fonts are copies of the fonts above. However, these do not feature the SVG textures and require no specific software to function.
The Hamilton Collection PSD File – For those that do not have access to Adobe CC, but still wish to reap the benefits of SVG fonts. I have included a high-resolution PSD file that includes all of the available glyphs, ready and waiting for you to drag and drop.
What are Opentype SVG Fonts?! Opentype SVG is an entirely new font format that functions similarly to standard fonts. The big difference is that this new format allows font designers to incorporate as much detail as our hearts desire into our creations by using high-resolution bitmap images for the letters as opposed to traditional vector, something that was taken full advantage of when creating this collection! Please Note: This font collection does not currently include multilingual support. Adding multilingual glyphs increase the file sizes of these fonts which often crashes Adobe software.
Description
Licensing
All of our products come with a full range of licensing options to suit the needs of any individual or organization. We like to keep things nice 'n' easy and in line with industry standards. Our licenses are structured as a one-time purchase, with no need for yearly renewals. More info here.
Compatible & Multilingual
The fonts are in the OpenType font format. OpenType fonts are accepted within the vast majority of design software (this includes design apps for mobile and tablets!). Multilingual support is also included for Basic Latin, Western European, Euro & Pan African Latin.
Our Happiness Guarantee
We firmly stand by the quality of our products, which is why we provide a money-back guarantee within 30 days of your purchase if you're not completely satisfied, please do not hesitate to reach out and let us fix any issues you may have with our products.
Instantly Unlock 1000's of Premium Design Assets with our All Access Pass
Sign up today for instant access to a creative, versatile, and professional library of design assets that immediately add an authentic touch to your digital work. Best of all, every future release will be ready and waiting for you at no extra price. Save time, energy, and money by putting our range of handcrafted fonts, realistic textures, and vintage illustrations to work.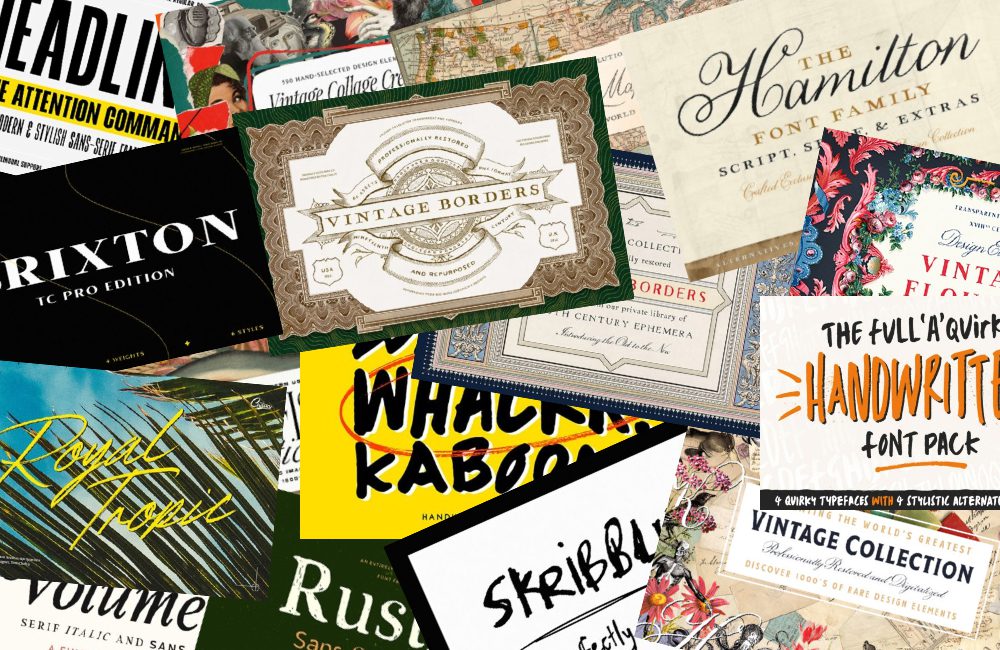 Other products you might like
Additional information