Bravura – Handpainted SVG Font Duo & Extras!
$26.00
Introducing the Bravura SVG Font Duo: A bold and energetic brush font family full of pizzazz, quirkiness, and handpainted goodness. This excitable pair was designed to be loud, creative, and eye-catching. Making them perfect for the design of book covers, posters, apparel, packaging, editorial work, advertising, and more. Jam-packed with extras! This dynamic duo contains a full set of alternate characters to help improve the handwritten authenticity of your designs as well as an SVG version of each! Also included are 3 high-resolution PSD files containing hundreds of handpainted design elements to give your designs that extra boost! What's inside?
---
Bravura Tall: A quirky handpainted brush font and the taller of the pair. Better suited for taking center stage! Use this font if you require the traditional vector .OTF format but still the textures of an authentic brush font.


---

Bravura Stumpy: Just as quirky, but the stumpier of the pair. Better suited when complimenting it's taller sibling, although, just as prepared to take the mic. Use this font if you need the traditional vector format.


---

Bravura Tall SVG & Bravura Stumpy SVG: Use these fonts to automagically create custom type designs as if they were handpainted directly onto the screen. With high quality, transparent acrylic paint textures featuring throughout, these fonts are great fun and super easy to work with, requiring zero extra work. Photoshop CC 2017 or Illustrator CC 2018 and above to use


---

Original Handpainted Glyphs PSD: If you are unable to use the SVG fonts, or require the letters in a higher resolution, this PSD file has you covered! All of the original handpainted glyphs can be found here. Layered and organized.


---

The Handpainted Toolkit: An extensive collection of high-resolution handpainted design elements that beautifully complement the aesthetics of the Bravura font family. From abstract shapes to arrows, from boxes to lines, naughts to crosses, and so much more.


---

Multilingual Support: Both the traditional vector and SVG font formats include glyphs that support Basic Latin, and European languages such as; English, Spanish, Portuguese, German, French, Italian, Swedish, Danish, Dutch, and Finnish.
Description
Licensing
All of our products come with a full range of licensing options to suit the needs of any individual or organization. We like to keep things nice 'n' easy and in line with industry standards. Our licenses are structured as a one-time purchase, with no need for yearly renewals. More info here.
Compatible & Multilingual
The fonts are in the OpenType font format. OpenType fonts are accepted within the vast majority of design software (this includes design apps for mobile and tablets!). Multilingual support is also included for Basic Latin, Western European, Euro & Pan African Latin.
Our Happiness Guarantee
We firmly stand by the quality of our products, which is why we provide a money-back guarantee within 30 days of your purchase if you're not completely satisfied, please do not hesitate to reach out and let us fix any issues you may have with our products.
Instantly Unlock 1000's of Premium Design Assets with our All Access Pass
Sign up today for instant access to a creative, versatile, and professional library of design assets that immediately add an authentic touch to your digital work. Best of all, every future release will be ready and waiting for you at no extra price. Save time, energy, and money by putting our range of handcrafted fonts, realistic textures, and vintage illustrations to work.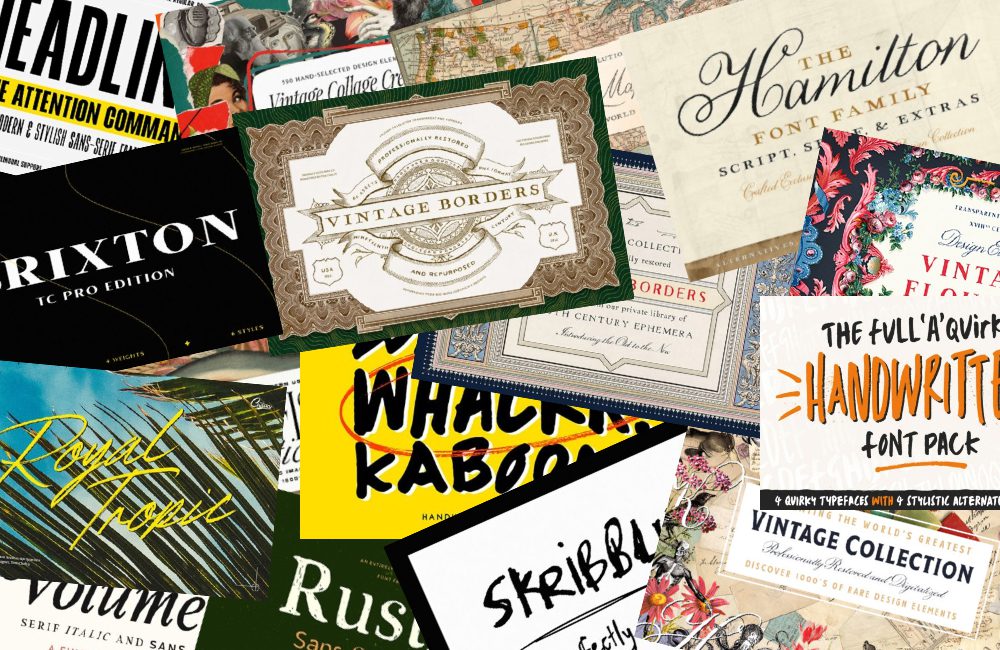 Other products you might like
Additional information
Keep Scrolling for All the Extras and Glyphs!