SVG Fonts Require Adobe CC 2017 or Newer
Acrylic Hand – Handpainted SVG Font Collection
$29.00
The Acrylic Hand Font Collection includes four SVG fonts with an entirely hand painted, multilingual glyph range featuring realistic and high-quality textures throughout. The textures are exactly as they appear with no extra work required!. What the heck are SVG Fonts?! SVG is an entirely new font format that functions similarly to standard fonts. The big difference is that this new format allows font designers to incorporate as much detail as we wish into our creations by using high-resolution bitmap images as opposed to vector. Please Note: Opentype SVG Fonts require Photoshop CC 2017 or Illustrator CC 2018 (or newer). TTF fonts are included and these work universally (they're just not as cool looking). With new technology comes new questions, for which I am more than happy to help! Please do not hesitate to reach out.
Description
Licensing
All of our products come with a full range of licensing options to suit the needs of any individual or organization. We like to keep things nice 'n' easy and in line with industry standards. Our licenses are structured as a one-time purchase, with no need for yearly renewals. More info here.
Compatible & Multilingual
The fonts are in the OpenType font format. OpenType fonts are accepted within the vast majority of design software (this includes design apps for mobile and tablets!). Multilingual support is also included for Basic Latin, Western European, Euro & Pan African Latin.
Our Happiness Guarantee
We firmly stand by the quality of our products, which is why we provide a money-back guarantee within 30 days of your purchase if you're not completely satisfied, please do not hesitate to reach out and let us fix any issues you may have with our products.
Instantly Unlock 1000's of Premium Design Assets with our All Access Pass
Sign up today for instant access to a creative, versatile, and professional library of design assets that immediately add an authentic touch to your digital work. Best of all, every future release will be ready and waiting for you at no extra price. Save time, energy, and money by putting our range of handcrafted fonts, realistic textures, and vintage illustrations to work.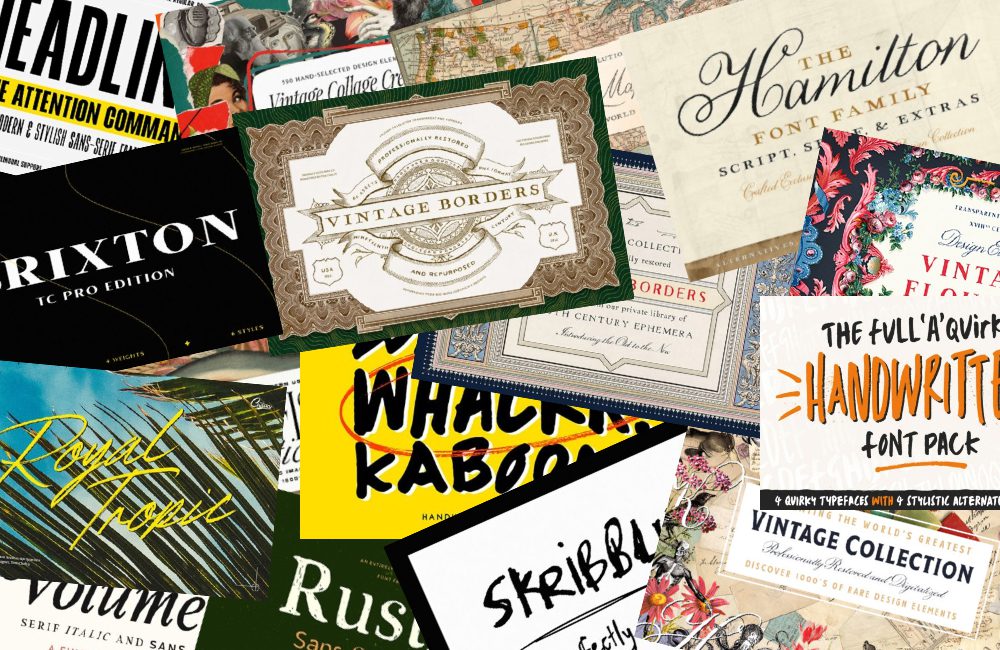 Other products you might like
Additional information
What's Included?
Acrylic Hand Thick SVG A strong and bold sans-serif font painted with thick acrylic paint. Perfect for grabbing attention and taking center stage. The uppercase and lowercase letters are completely different, so try alternating between them to improve the overall authenticity.
Acrylic Hand Sans SVG A not quite so average sans-serif font, designed to complement any and all of the fonts within this set and at any size. Just like the Thick sans-serif, the uppercase and lowercase letters are different to improve authenticity.
Acrylic Hand Tall SVG A tall sans-serif font (uppercase) with the addition of small caps (lowercase). Both glyph sets have proven to be ideal for different situations, making this a super versatile addition.
Acrylic Hand Serif SVG The collection was going to be strictly sans-serif, but I found that this was a perfect addition and looks fantastic in combination with any of the above and on its own! Also, just like the majority above, the lowercase and uppercase are completely different.
Standard TTF Editions Some projects may not require all the bells and whistles of an SVG font, so I have also included non-textured TTF versions for each of the fonts.
20 High Quality Hand Painted Textures Taken from my 'Assorted Paint Texture Collection', these 20 stunning textures perfectly complement Acrylic Hand and are available in both PNG and Photoshop Brush (ABR) formats.
A Commercial Desktop License As with all purchases, you are purchasing a standard commercial license. More information can be found here.