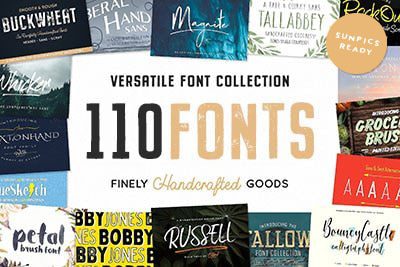 License our Font Collection for your Sunpics Software!
The handmade aesthetic has gained a ton of traction over the years as technology becomes more dominant in our lives. With fonts being front and centre of almost everything we design, the handcrafted style has become a staple throughout the whole design industry. Allow your customers to add a more personal touch to their creations with our collection of hand drawn typefaces. Tried and tested by the developers of your Sunpics software! Get in touch with us today to arrange licensing.
SUNPICS Ready!
In collaboration with Areal Media, we are offering custom licensing to embed our fonts within your SUNPICS software for your customers to use and enjoy. These handcrafted fonts will add a personal touch to your customers' creations in an instant and we are sure they will love them!
Compatible & Multilingual
The fonts are in the OpenType font format. OpenType fonts are accepted within the vast majority of design software (this includes design apps for mobile and tablets!). Multilingual support is also included for Basic Latin, Western European, Euro & Pan African Latin.
Affordable Licensing!
Pay a one-off fee per 1000 users. The more users you have, the lower the overall cost. We understand that every business is different and we're happy to chat this through with you. So if you're interested in implementing our fonts, then shoot us a quick message to get the ball rolling and we will be in touch as soon as possible.
Keep Scrolling to see What's Inside!
Below you will find a detailed overview of each and every font family that has been included within this diverse and exciting collection of handcrafted fonts.
The Buckwheat Font Collection
Each and every font within the brand new Buckwheat Collection was carefully created to be timeless, super versatile, and effortlessly cohesive. An essential kit to come back to time and time again for any number of design projects; from clean and modern, to rough and organic
Magnite Brush Script
I'm happy to introduce you to Magnite – A handwritten brush font jam-packed with character and authentic charm. Designed to be versatile, Magnite is perfect for branding projects, editorial work, invitation design, product packaging, and everything in between!
The Jovial Font Family
Introducing the handcrafted Jovial Font Family (6 fonts!). Jovial was designed to be friendly, fun, quirky and eye-catching. Jovial is available in both Serif and Sans-Serif, each coming with three weights: Light, Regular, and Bold
The Vintage Fonts Pack
The Vintage Fonts Pack is a bundle of fonts (all of which you will find below; Within their respective families) packaged alongside 73 High-Resolution Vintage Illustrations. The typefaces that you see within the previews are Brixton/Brixton Outline/Tallow/Tallow Sans/Jimmy Script/Jimmy Sans.
Lance Sans & Serif
An all capitals font duo that works together in harmony. Inspired by bold, classic typography and ideal for a whole range of creative projects. The fonts were purposefully designed to look great front and center. The Lance pair is entirely handcrafted with all imperfections intact; enhancing the authentic handmade feel that has always been so desirable.
Bobby Jones Font Collection
Inside you'll find 16 quirky handcrafted fonts, oozing with personality, ripe and ready to take center stage within a variety of creative and fun design projects. If you're looking to grab eyeballs with an ad campaign, a logo design, apparel, printed stationery, and all that other good stuff, then worry not. Bobby has you covered.
We all come with imperfections and Bobby is no exception! His outlines are slightly off, his corners are irregular, his straights aren't straight, but he's cool with it. In fact, he's too busy strutting his stuff.
Bouncy Castle Modern Calligraphy Script
Say hello to Bouncy Castle! A playful, handwritten, and modern calligraphy font family with 4 sets of alternative letter styles to effortlessly switch between for maximum creativity and authenticity.
The family was designed to look incredible within wedding and event invitations, flyers and other printouts, logos and branding, apparel, and everything in between. It's a truly flexible family and I hope that you love it as much as I do
Russell Brush Script
An organic and expressive handwritten brush script font designed for versatility. It's legible; making it perfect for product packaging, editorial work, and poster design, and it oozes personality; great for branding, invitations, and more. This font packs a real punch with super duper textures and a ton of useful extras including custom catchwords, ink splatters, underlining brush strokes, and italics!
Tall Abbey Sans & Serif
Tall Abbey was based on my partners' handwriting and with a few tweaks here and there it turned into one of my all-time favorite fonts. Recently, I have extended Tall Abbey into being a multilingual font that covers all Latin 1 glyphs.
Rock Out Brush Script
Rock Out is rough, loud, creative and stands out from the crowd whilst still being a legible typeface. All of the uppercase letters have awesome Opentype Stylistic Alternatives that bring even more versatility to the table.
TrueSketch Font Family
A creative, practical and versatile font family with a strong handcrafted vibe, perfect for those design projects that need a dash of DIY. To help emphasize the handwritten style of Truesketch, every letter (uppercase and lowercase) has its own stylistic alternative (the same letter drawn slightly differently – accessible via your software's glyph panel). This powerful addition drastically improves the authenticity of the font and can help improve your design for those eagle eye clients.
Grocery Brush
I'm very pleased to introduce you to the Grocery Font Family, it includes a rough and ready brush script (Grocery Brush) and a cleaner alternative (Grocery Hand) both inspired by classic food-market signwriting. Every effort was made to ensure the quality of texture in each letter was as high as possible. Fonts can only be so detailed, so after testing the limits of my software (and crashing it several times) I was eventually able to come up with what we have before you.
The Tallow Font Collection
Introducing the Tallow font family. An awesome collection of 10 handcrafted fonts that will be a great asset to any font library. This uppercase (and small caps) family consists of 5 different styles; brush, pen, sketch, rough and regular. And each of the styles included is available as sans-serif and serif fonts.
The Rivina Font Collection
This creative and playful hand-drawn font collection was inspired by the do it yourself movement that has exploded in recent years. What with the overload of all things virtual, this change of direction was inevitable, and one that I accept with open arms. These fonts will help add authenticity and personality to your digital work!
Petal Brush Script
Petal is a beautiful brush font that was handcrafted by yours truly with a Japanese brush pen. The font is full of character and personality and sits comfortably with modern trends. All efforts were used to preserve the handcrafted authenticity of Petal and the proof can clearly be seen in the outcome! One of my new personal favorites.
Liberal Hand Sans & Serif
Liberal Hand is a classic serif font completed in an authentic hand drawn style giving this an edge over your typical serif of similar design. This particular font works perfectly when used for headlines or anything that needs grab attention. Liberal Hand Sans, a great addition to the Liberal Hand family and my personal favorite. This particular font is brilliant for everything from headlines to paragraphs and from logos to posters.
Brixton Font Family
Introducing Brixton, a handcrafted font family with a unique and timeless personality that is available in 3 weights; light, regular and bold. Brixton is a great display font that thrives when used correctly. Particularly within posters, vintage logo design, label design, packaging, clothing etc.
The Whicker Font Duo
Introducing my handcrafted brush font Whicker and its complimentary sans-sidekick. They function great on their own, but truly shine when combined! Perfect for logos, quotes, apparel, branding, headlines and anything that you want to draw attention to!
Brixton Sans
Brixton Sans was originally designed in 2012 and has been available ever since, however, I have since expanded the family by introducing a light and bold weight as well as an outlined alternative that perfectly compliments, making the Brixton Sans collection an even more versatile bunch!
Brixton Line Font
Brixton Line is a simple and effective handcrafted serif font but within a few clicks, you can transform Brixton Line into something unique and creative. With over 80 stylistic alternatives to choose from this font is great fun to work with! The font is an all-capitals font, the uppercase letters are slightly stylized versions of their lowercase counterparts and the remaining 87 alternatives are available through the glyph palette
Avera Sans Font Collection
Introducing the new and improved Avera Sans font family. Within this handcrafted family you'll find light, regular and bold weights with an extended glyph range (latin 1). Avera Sans is a great display font that looks good big or small and is perfect for poster design, logo design, apparel design, etc
The Brixton Hand Font Family
Brixton Hand and its sans-serif companion were consciously designed to function beautifully together within a variety of different design projects. From logo to apparel and from posters to the web. By correctly utilizing the available stylistic alternatives, the included extras, and catchwords, the pair truly shines!
Jimmy Script
I'm pleased to show you my latest font family, Jimmy. It includes a handcrafted script font (Light, Regular, and Bold weights included!) and a perfectly complementing all capitals Sans (Regular and Bold weights included!). The styles of both Jimmy Script and Jimmy Sans were inspired by the modern vintage trend that is sweeping the design industry. Whilst the Script and Sans can be used effectively as separate fonts, they truly work their magic when combined!
The Ultimate Handcrafted Fonts Collection
Proudly introducing this super versatile selection of 110 premium handcrafted fonts with hundreds of design extras. Five years in the making, this collection contains the absolute best of what I have to offer!